A Cambridge fine dining scene that sizzles
Locals and guests relish the flavors of our lively American restaurant that sits along the Cambridge riverfront in greater Boston. Bambara gladly accommodates parties of all sizes—whether it's a birthday party for 10 or a business dinner for 100, we have the perfect private dining space for your next event. The restaurant invites diners into cozy booths, a chic cocktail lounge and onto our outdoor dining spaces; inside, enjoy the venue's grand open kitchen and a palette of cool blues and rich jewel tones. The result? A smart, urbane atmosphere, where local flavors shine and menus rotate according to the season. Host your next private dining to-do in our semi-private mezzanine or lounge, or buy out the entire restaurant for an extra-special treat with up to 100 of your closest friends or colleagues.
To learn more and plan your next event at Bambara Kitchen + Bar, please email us a info@bambara-cambridge.com.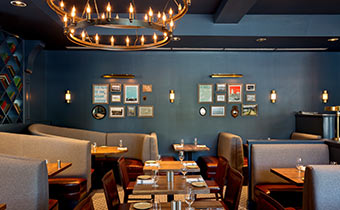 Mezzanine
Our semi-private mezzanine overlooks the restaurant's dining room and exhibition kitchen, also offering a view of our outdoor patio and herb garden. With an enchanting wall backlit by candles and plenty of space, the mezzanine can seat up to 60 guests or host up to 80 for a reception that proves elegant and flexible enough for any occasion.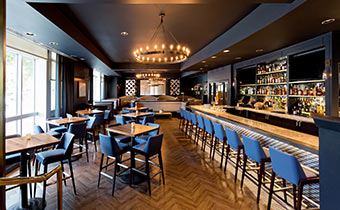 Full Dining Room
Allow your guests to truly feel like VIPS in our inviting restaurant on the edge of the Charles River. Securing the full dining room for your private dining event proves an ideal choice for parties of up to 100 guests.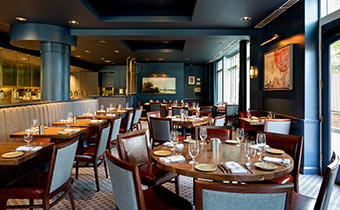 Lounge
Our lounge features a set-up that allows us to host smaller cocktail parties of up to 30 people. Whether you're gathering colleagues, family members or friends new and old, celebrate with us; our culinary team and restaurant staff will make the party one you won't soon forget.