Enjoy The Perfectly Warmed Glass of Brandy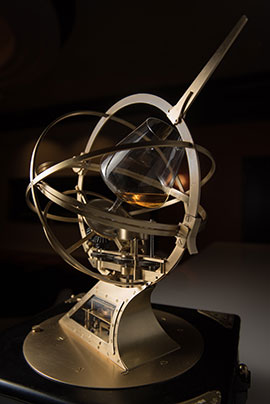 You met Celeste on your way into the hotel, now meet Brandy.
Actually, it's more of a "Brandillary" and its design was inspired by our armillary courtyard sculpture, Celeste .
Both pieces of art were envisioned by ModVic, a local company that specializes in Steampunk art design. For this Brandillary which sits atop our Lobby Bar , ModVic commissioned local mechanical artist Todd Cahill of Steamachine Sculpture in Waltham to fabricate this work of art which creatively warms a glass of brandy over an open flame.  
Here's how it works: The top half of the Brandillary opens, a glass with brandy is dropped in, and then you wind the gears (readapted from an old Edison phonograph) with about ten cranks. The structure will rotate the snifter over a flame for one minute, shutting off automatically when the brandy is perfectly warmed for our guests to enjoy.
After more than 400 hours of design and fabrication (over the course of one year), we're excited to showcase this very unique Brandillary at Kimpton Marlowe.  We think it's a pretty "neat" piece of artwork.