An intimate Cambridge lobby bar designed for discovery.
The Kimpton Marlowe Hotel's lobby is a spot destined for self-discovery. Rich hues of blue, gold, orange and persimmon speckled with black marble take celestial design influences to new heights. And positioned front and center, the lobby bar draws guests in with plug-in ready communal tables and seating that's wrapped around an alabaster-colored, glowing fireplace, an ideal setting for enjoying a glass of wine or more traditional cocktail. Cozy up for intimate conversation, spontaneous brainstorming or a solitary escape that seduces with daydreams of adventure and rediscovery.
If brandy is what your palate seeks, a neat experience awaits you. Sip and savor .5, 1 and 2 ounce pours from an exclusive "Taste of the Good Life" brandy menu consisting of over 60 different varietals, or revel in craft cocktails infused with cognac and Armagnac, as you soak in a view of our courtyard armillary sculpture Celeste or our impressive backlit brandy display. During beverage service, a variety of savory food items are also available, such as the house made charcuterie, pumpkin falafel, choereg bread and dry aged burger.
Hour of Operations: The Lobby bar is currently closed due to Massachusetts State guidance for COVID-19.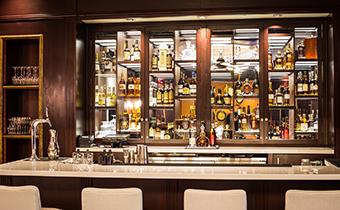 Have a brandy-new experience
Rediscover the versatility of brandy. Our libation list features over 60 varieties of American brandies, Armagnac, Calvados, Cognac, and Brandy de Jerez, as well as a specialty cocktail list amorously devoted to brandy mélanges. Selections of wine, beer, and classic cocktails are also available.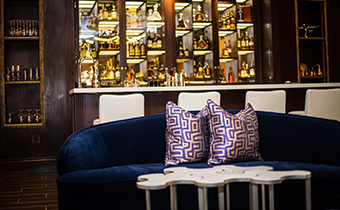 Convene and unwind
Guests are encouraged to convene and unwind in the lobby bar, a sophisticated space thoughtfully designed for fireside conversations and laser-focus work sessions alike. Featuring high-top barstools, as well as soft and high-top seating along the featured fireplace, guests can network, socialize, and plug-in during all parts of the day.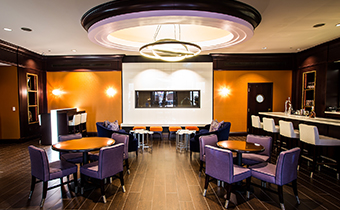 Host a private event
With space to accommodate up to 50 guests, the lobby bar offers guests idyllic, personal surroundings to savor sips over genuine conversation. The versatility of the space extends beyond its four walls, as the adjacent Armillary-adorned courtyard offers a stunning backdrop for a social gathering.