An intimate Cambridge lobby bar for private events, designed for discovery.
The Kimpton Marlowe Hotel's lobby is a spot destined for self-discovery. Rich hues of blue, gold, orange and persimmon speckled with black marble take celestial design influences to new heights. And positioned front and center, the lobby bar draws guests in with plug-in ready communal tables and seating that's wrapped around an alabaster-colored, glowing fireplace, an ideal setting for enjoying a glass of wine or more traditional cocktail. Cozy up for intimate conversation, spontaneous brainstorming or a solitary escape that seduces with daydreams of adventure and rediscovery.
The Lobby Bar is available for private functions and receptions only. In order to utilize the space, please reach out to our sales and catering team to learn more. Sales@hotelmarlowe.com.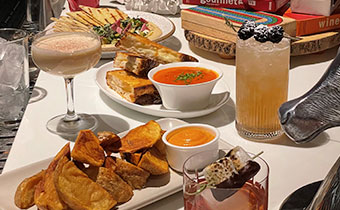 Convene and unwind
Guests are encouraged to convene and unwind in the lobby bar, a sophisticated space thoughtfully designed for fireside conversations and laser-focus work sessions alike. Featuring high-top barstools, as well as soft and high-top seating along the featured fireplace, guests can network, socialize, and plug-in during all parts of the day.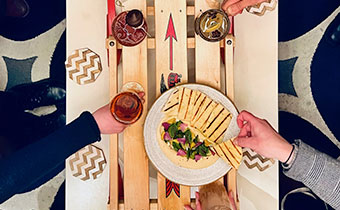 Host a private event
With space to accommodate up to 40 guests, the lobby bar offers guests idyllic, personal surroundings to savor sips over genuine conversation. The versatility of the space extends beyond its four walls, as the adjacent Armillary-adorned courtyard offers a stunning backdrop for a social gathering.