Executive Chef Adam Resnick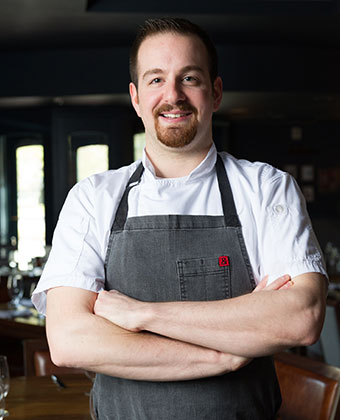 Chef Adam's interest in cooking began early, growing up cooking and preparing meals with his mother and grandmother. "We were never a take-out kind of family," recalls Chef Adam, "Mom was always cooking, taking me to the grocery store and showing me how to pick-out the freshest produce. Making challah and fresh-baked cookies with my mother and grandmother was always a treat. So it was completely natural and almost second nature for me to continue working in the kitchen as I got older." After high school, Chef Adam left Newton, MA for the Culinary Institute of America in Hyde Park, New York to begin his formal kitchen training.
Through this and mentorships by some of Boston's most well-known chefs, he became a proponent of layering flavors, textures and seasonal ingredients to create craveable dishes. Chef Adam began his career working with several local, independent restaurants and at Brae Burn Country Club in Newton, MA where he assisted culinary operations for the Club's high-profile banquets and galas. Then in 2012, he started his tenure in Kimpton kitchens, cooking within the national network of restaurants and bars, from Vero Beach, FL to Los Angeles, CA. Prior to becoming Bambara's Executive Chef, he served as the restaurant's Executive Sous Chef for five years and led the culinary team at the Kimpton Nine Zero's legendary Highball Lounge in Boston from 2014 – 2016. Chef Adam is excited to continue bringing seasonal and inventive New American dishes to Bambara Kitchen & Bars menus. Flavors from his global travels serve as inspiration for dishes that vary, as much as the New England seasons.
His main objective at Bambara? "I want our guests to look at our menus and think 'this all sounds so good. I can't wait to try a bite of everything.'